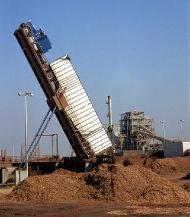 This facility is currently idle.
Address
14800 West Schulte Road
Tracy, San Joaquin Co. CA 95377-8795
Size (MWs)
21
Senate District
SD 5, Kathleen Galgiani, R
Assembly District
AD 13, Susan Eggman, D
Congressional District
CD 10, Josh Harder
Website
http://www.greenleaf-power.com
Thermal Energy Development Partnership (TED) is a net 20.5 Mega Watt (MW) woody biomass electrical generationfacility located in Tracy, in San Joaquin County California. The facility is a qualified in-state base load renewable resource (CEC# 60091E) that has been consistently providing renewable energy since 1990. GLP acquired TED in 2013.
TED utilizes a Detroit Stoker vibrating grate wood fired boiler and Dresser steam turbine generator set to generate between 125,000 and 150,000 MWs annually. The boiler is equipped with multi-clones and an electrostatic precipitator for particulate control, ammonia injection for NOx control, limestone injection for sulfur dioxide control, and sodium bicarbonate reagent to reduce stack plume. TED operates under a Title V Permit and is compliant with all Federal, State, and Regional regulations.
TED burns between 135,000 and 160,000 bone dry tons of urban wood waste, orchard removal trees, and shell and pits. The majority of the fuel is in the form of urban wood waste that is diverted from local Bay Area landfills allowing local jurisdictions to meet AB 939 mandated recycling diversion targets. Orchard material is consumed at TED to satisfy air quality offset requirements.
In 2014, TED had approximately 25 employees with a payroll of more than $2.2 million, purchased goods and services of more than $3.5 million from local and regional businesses and paid more than $75 thousand in property taxes.